Couples and Individual Counselling / Psychotherapy in Seaford, Eastbourne, Lewes, Brighton

During the pandemic and after I have been working online using Zoom and other online packages. I am seeing people face to face in my consultation room in Seaford and I continue to work online.

A committed relationship for many people lies at the centre of their lives but very few couples have a relationship of any length without meeting difficulties along the way. The happiest couples can be open about the fact that there were times when they disliked each other and considered separating. Through triumphing over these personal difficulties they create a unique bond. Conflict can be a way of developing a partnership rather than signalling an end to it, but for some couples the presence of a third party, a counsellor, helps in sustaining the dialogue when feelings run high and it is here where a skilled counsellor/psychotherapist can be of help. Sometimes people take a long time to admit there is a problem - but just waiting and hoping things will get better may only make things worse.

As well as the impact on individuals the Covid pandemic has had a powerful, often difficult impact on couple relationships as well. Lockdowns have thrown couples together in the same house nearly all the time and sometimes children were around as well needing to be both entertained and educated, distracting parents from their occupations when they have to work from home. Conflicts over the division of the tasks of running a house, looking after children and working frequently arise and can be difficult to resolve. Even when things return to relative normality resentment remains and it is then that a neutral third party (friends can only help to a limited extent) is helpful in opening up the dialogue between the two individual points of view.

The roots of conflict in a relationship often lie in the pasts of the individual members of the couple, hidden from their conscious minds. They remain unaware of the havoc that their experiences when young might have on their adult relationship. Counselling/psychotherapy can help people find a way out of their difficulties provided both members of the couple are willing to look at what might be wrong in their relationship.


The counsellor can provide the hope for the future at a point when things seem hopeless.


Through my training with the globally-renowned Tavistock Relationships in London along with over a decade's work with couples in counselling centres, in conjunction with GP practices and in private practice across the UK I offer a professional and experienced approach to a broad range of difficulties that couples bring across the life span.

This includes working with my wife Marla (also highly experienced and Tavistock Relationships trained) at times in conjoint therapy. The technique of working with two couples in the room can be helpful in broadening the perspective to two experienced professionals where each inevitably has a different view but where differences can be discussed - mirroring the work of the couples therapy itself. We have worked in this way for some years and this approach has been succesful as evidenced by very positive feedback. Marla's website can be found here

I also offer Supervision to counsellors and psychotherapists in training and those working in the profession.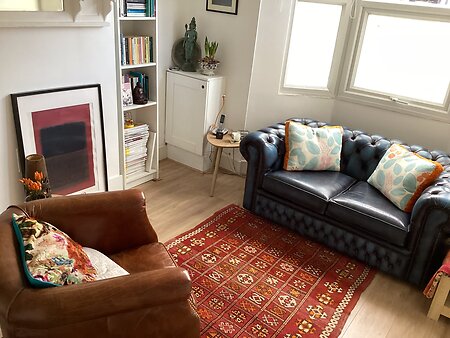 Location & Contact
My consultation room is in Seaford High Street, within easy reach of Eastbourne, Newhaven, Lewes, and Brighton To contact me click here


Counselling and Psychotherapy in Seaford, Eastbourne, Newhaven, Lewes and Brighton